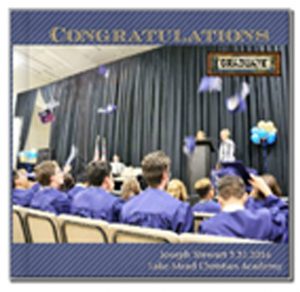 After a fun filled summer, the kids are back in school and we are all settling back into our school year routines. Facebook has been filled with first day of school photos and first day in college dorm photos. I have been enjoying each and every post!
In June of 2016, my son graduated high school, so as my friends with college freshman this year have been posting their goodbye photos, it brought back all those feelings I had last August when we dropped our son off at college for the first time. It was such a great time filled with mixed feelings of sadness, happiness, and excitement for all that God had in store for all of us! It was a new beginning and a new chapter for all of us!
It was also a wonderful time of reflection on the last 18 years! Every time I look at his high school graduation pictures or flip through some of our family storybooks, those feelings and memories come flooding back! I am so thankful I printed those pictures in the form of framed pictures, wrapped canvases and storybooks (that's my son's graduation book above, a work in progress. I blurred it on purpose for security reasons. It is an 8×8 storybook). Now I have a tangible memory I can hold in my hand and my heart! And I get to hold not just the photo, but the story that goes along with it. He was Salutatorian with his best friend and they gave a memorable speech which I recorded along with all the photos! It just makes me feel closer to my son even though he is far away. That's the power of the published story.
One of my favorite things about Heritage Makers is the ability to tell my story without limits. If I can dream it, I can print it. But I don't always have the time to totally customize it myself. That's why I am grateful for Heritage Makers extensive Template Gallery (click this button then look in the upper right hand corner for the template gallery linkTemplate Gallery). I can pick a template that has close to everything that I would include and then I can 100% adjust it to fit my vision! It saves me time but I still get what I want! I have done a lot of research and I have not found another company that offers the same quality, variety, value and service as Heritage Makers.
As I look at my friends' Facebook posts of first days and last days, I smile and feel the joy that they most assuredly must be feeling. I know most of those kids personally. Having been a part of our Theatre Department since its inception 10 years ago, most of those kids passed through my camera! I have hundreds of photos of them through the years. Ten years' worth! (Yes, I have a storybook filled with them! Ha! And I gave three others as gifts!) I also had the privilege of taking their pictures at their High School graduation ceremony this past June; before, during and after the ceremony. Because I know the power of a story, I can't help and wonder are they recording the memory along with the photo? I really hope and pray they are. And if not, then I have a solution for them!
In September, our storybooks are going on sale! Now is the perfect time to start constructing your story in the form of a beautiful storybook! If you have never done it before or it's been a long time, you might be feeling a little overwhelmed. I have a solution for you (but you already knew that, huh?! 🙂 )!
The easiest story to start with is the most current one. You just made all those posts on Facebook with words that represented your memories. The work is half way done already! Start there. Easy Peasy!
Whether it is about first and last days, high school graduation, college, the baby you just had, the vacation you just took, your year in review or another story, start capturing your story today and let me help you! I'll show you how you can make it yourself or I can do it for you! But either way, start today with your free Heritage Makers account! Free HM Account
"I regret making that storybook," said no one EVER! Lol! Let me help you CAPTURE your story today!! Contact me today!
May God bless you abundantly today and always!
~Carol
Some sample template covers of the 11.5 x 8.5 storybook: