We are not who we are simply because we think. We are who we are because we can remember what we have thought about. ~Larry R. Squire & Eric R. Kandel from "Memory, From Mind to Molecules."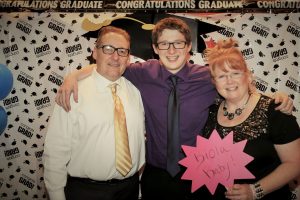 Memories are what connect us. Think about it. What if you didn't have a memory of the people you loved? Or the people who loved you didn't have a memory of you? What kind of relationship can be sustained without memories? Not much of a relationship. Think Groundhog Day, the movie, where Bill Murray is forced to re-live the same day over and over again. He remembers every day he re-lived while everyone else is living that same day for the very first time, every time! It's a very lonely existence as he has to start his relationships over and over again without any growth retained beyond 24 hours.
In a relationship of two people, both need to have memory to grow the relationship. A solid relationship foundation is built on memories. That's why memory diseases like Alzheimer's are so devastating. When one person loses the ability to remember, or worse, starts losing existing memories of their relationship with the other person, it is devastating. I have experienced the effects of this awful disease in my own life and it is truly devastating for all parties involved.
Relationship and community is why we exist in the first place! God created us for relationships and community. This is how we glorify Him; through our relationships with Him and others. Can you imagine how hard it would be to try to fulfill our purpose without memories? That's because memories connect us to each other.
Memories are so important even our country has a day set aside for remembering: Memorial Day. On Memorial Day, we remember those men and women who gave their lives protecting our country and the rights we enjoy as free people. Christmas and Easter are set aside to remember the birth, death and resurrection of Jesus, who made the ultimate sacrifice for our freedom.
"Every thought we have, every word we speak, every action we engage in- indeed, our very sense of self and our sense of connectedness to others – we owe to our memory, to the ability of our brains to record and store our experiences. Memory is the glue that binds our mental life, the scaffolding that holds our personal history and that makes it possible to grow and change throughout life. When memory is lost, as in Alzheimer's disease, we lose the ability to re-create our past, and as a result, we lose our connection with ourselves and with others." ~Larry R. Squire & Eric R. Kandel from "Memory, From Mind to Molecules."
Memories connect us by helping us to understand who we are. I think it's important to understand your placement in history in the context of your family and your ancestors. Understanding your context brings clarity to who you are and how you came to be. I did a project in 10th grade on my family genealogy. The assignment was to do a family tree. My grandma gave me a lot of her family records which I still have to this day. When I completed the project it was a huge poster board. When I brought it into class, I was the only one holding a huge poster board. I stuck out. (What 10th grader wants to stick out? J ) Everybody else had one 8 ½ by 11 sheet of paper. Needless to say my teacher talked about my project till the end of that school year as he was so impressed with how much work I did. (Honestly, I did all that work because I thought that was the assignment!) I gained a love for genealogy and family history through that project.
When my mom's cousin learned of what I did she sent me a huge genealogy record of our family. She gave me panels and panels of 8 ½ by 11 sheets of paper taped together to make up a poster bigger than a queen size sheet. Through this project I learned many stories about my ancestors; who they were, what their temperament was, the struggles they overcame, etc. It helped me understand where I came from and helped me to better understand who I was and gave me a sense of pride and belonging. This documentation of my family history brought me closer to those that had come before me, even those I had never met in person. It gave me a sense of security. (I'm currently in the process of documenting all those memories and will eventually put together a Heritage Makers storybook and include some old photos my aunt found).
Here is another blog post I wrote on the importance of remembering the past: Remind-Remember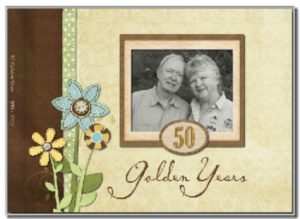 Memories connect us by deepening the existing bonds. When my parents' 50th wedding anniversary was approaching, I was inspired by my 10th grade project to put together a Heritage Makers legacy storybook for my parents. It took me a year to gather all the stories and photos (I had to scan most of them as they were film photos) but it was the most rewarding storybook I have created to date. It was the story of their lives together. Watching my parents bond as they read the storybook together and re-lived all their memories together was priceless! My parents loved it and read it over and over again. I gave that storybook to each of my siblings as a Christmas present. That's the beauty of making a storybook in Heritage Makers; you can order multiple copies with no additional work other than to hit the button "add to cart!" Easy Peasy!
When my mother passed away in January 2018, we had a picture table at her memorial with a lot of my mom's pictures displayed and a slide show running on a loop, plus the 50th wedding anniversary storybook. When people walked over to the table the first thing most people did was to pick up that storybook and read through it. The slide show was nice but the storybook was tangible and could be picked up and read at ones' own pace. And it contained the history and the memories in the form of written words that went along with the photos. The most compliments I received from the display were about the storybook. People loved looking through that beautiful Heritage Makers storybook.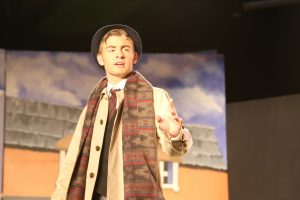 At my daughter's school, we just completed our production of the musical "She Loves Me!" Among other duties, one of the items I am tasked with is to document the production through photos. I took photos at four dress rehearsals and printed 120 photos for display on opening night. I also had a slideshow. While the slideshow was enjoyed, those printed pictures received the most attention, especially among the teenagers in the cast. They just don't see printed pictures like we did growing up! I assured them that they would be getting a link to all my pictures but they still competed for those printed versions! They wanted to hang them in their room to remember the special bonding that occurred during the preparations for the production. I suspect that a lot of those teenagers might not know how to even print the pictures by their reaction when I told them that they can just print more! My, how things have changed since I was younger! And it convinces me more that printed versions of our memories are more treasured and enjoyed then digital versions.
Memories connect us by rekindling old bonds. When I was younger my cousins were my best friends. On both sides of my family were lots and lots of cousins. They were like my siblings. We have lots of pictures from different family trips and events. Growing up I took it all for granted. I thought everyone had this same experience. There was a time that we were all inseparable but as we grew up and started having children of our own, life got busy and the gatherings were less and less.
Then my aunt died. We all gathered at her funeral and there were pictures displayed and a slideshow of a lot of our family gatherings. Seeing those photos again reconnected us and reminded us of our history together. It brought us all closer and we made a commitment to keep in touch. Seeing our memories in the form of photos together rekindled our bond. I only wished I had a hard copy of the slide show to take home so I could look at those slideshow pictures again.
Then, two years later in November 2017, another aunt died. Then her husband, my dad's brother, died a month and a half later. A week and a half after my uncle's passing, my mom passed away. It was a tragic season of loss. What did we, my cousins and I, all do? We went through picture after picture after picture and gathered them all up and displayed them at each of the funeral services in the form of slideshows and framed photos and even some Heritage Makers storybooks. Why did we do that? The funeral services were held to honor our loved ones' lives and photos were a huge part of that goal. Those photos represented their beautiful lives. Those photos represented our memories, our history with our loved ones and each other and it connected us and it honored our loved ones. Those pictures represented the deep bonds our loved ones had cultivated and that we continue to enjoy today. Those are the bonds that contribute to our health and wellbeing and keep us mentally healthy. I am so very thankful that my mom and my aunts knew the importance of maintaining a photographic history.
My mom and my aunts were good at keeping family albums and even writing on or near the photos. I am so thankful for the history and legacy they leave behind. Because they were so careful to record our photographic history, we have a legacy to pass on to the generations that follow us. If you don't have this kind of history recorded in your own family I highly encourage you to start today. Future generations will be impacted by it and will be thankful for your efforts. Let Heritage Makers help you create a lasting legacy. Start with your free Heritage Makers account today at www.heritagemakers.com/carolstewart.
Sometimes our memories are not accurate It's important to re-visit photos you may not have initially liked or may not have understood the importance of at the time. Different perspectives can change the recall experience of a photo, so going through old photos every few years can be helpful to your health and well being.
I remember when I was young, probably 8 or 9 years old; there was a picture of me with my siblings, friends and cousins in our backyard. We had just gotten out of the pool. I remember the bad feeling I had when the picture was developed and my mom put it into our family album. I remember at the time feeling like "oh my goodness I'm so fat." But I look back on that picture now and think what a ridiculous thought that was! I wasn't fat! I was just right. And now when I look at that picture my focus is not on my body image but on the relationships in that picture. I see the beautiful day I had with my friends and family! When time passes and I look back on those pictures, I am seeing them almost for the first time from a different perspective. I'm so thankful to have a more accurate perspective and more accurate memory of that day because I have a photo to jog my memory. Reflecting on those photos and the memories that go with them deepens my bond with my family and friends. A photo I once hated looking at is now one of my most favorites! (I try to remind my children of this concept when they give me grief over some of the pictures I take of them today!)
Memories Connect Us: Memoires connect us by helping us to understand who we are, by deepening our bonds with others and by rekindling old bonds. Heritage Makers can help you stay connected to those memories with a beautiful storybook. Start your connection today at www.heritagemakers.com/carolstewart .
How to protect those memories that connect us:
Record your memories in a Heritage Maker Storybook: Photos and the memories that go with those photos help facilitate retaining those memories and as a result, those relationships are deepened and grow. Photos and the memories that go with those photos help keep an accurate picture of our history. Memory isn't always reliable so it's important to record the memories as soon as possible for a more accurate history.
Once you have recorded your memories and created a beautiful Heritage Makers storybook, order one for yourself and gave away multiple copies as gifts! The boost in self-esteem you will have generated in the person who receives your lovely gift will be well worth the reasonable cost!
Two + ways to store your memories: The beauty of publishing a storybook in Heritage Makers is that your photos are stored in your account and in your storybook which means that you have a backup copy online in your account and a beautiful hard copy in your hands. Win-win! And, if you want a third way, Heritage Makers offers a high quality Photosafe Archival Disc to store all your photos. It is a disc that will last over 100 years (compared to a normal disc which will only last about 5 years).
Heritage Makers Heirloom Assurance Program: Although the slideshows and digital display of photos are nice, they aren't as fulfilling as a hard copy storybook in your hands! Hard copies of your family history are important for your health and wellbeing. Being able to pick up a hard copy of your family history is so rewarding and brings a sense of security and stability. It also guarantees your history will be passed on to generations to come. Not only can you order multiple copies of your storybook but Heritage Makers also has the Heirloom Assurance program. If any damage happens to your Heritage Makers storybook just order another one at half price!
Some of the advantages of using Heritage Makers to publish your storybooks and other products:
Quality: Heritage Makers is unsurpassed in quality. From the quality of their products to the quality of their image processing, you will not find another company that even comes close to Heritage Makers quality. My memories deserve the best and Heritage Makers fits the bill!
Art Selection & Templates: Heritage Makers is 100% customizable. You can create your own products from scratch or start with a template. There are 1,000's of artwork and templates to choose from.
Studio online all the time: Heritage Makers is 100% on the go! No software to download. Everything is created online in Studio. No risk of losing your work due to your computer crashing. Work from anywhere you have a computer and internet.
Learn More: www.capturebycarol.com or start creating today by opening your free account: www.heritagemakers.com/carolstewart