I apologize for the delay in informing you of this month's specials (I will tell you in my next post). Every time I went to make a post, it didn't feel right…it wasn't time. Do I make a post about the specials without any mention of the beginning of the month's horrific event? As if it didn't happen? It didn't seem right. I couldn't do it. Every time I wrote a post I deleted it.
As you can imagine, we have been very busy these last two and a half weeks recovering from the aftermath of the evil that occurred on Oct. 1st here in the Vegas Valley, when a gunman open fired on a crowd of concert goers. It didn't seem appropriate for me to make a post after the event without any acknowledgement of it as many of my friends and friends' friends were affected, including a lot of you reading this post. I pray for the families still suffering, either with the ultimate loss or with injury recovery, both physically and mentally. I could tell you countless stories of those close to me that either have their own story of that night or are close to those who do. I have prayed with and for many victims of this hideous act. If you are friends with me on Facebook, then you may have seen my shares and posts on my private page as I have posted something about most of those stories. (As a side note, if you are a victim or know a victim, please contact me for free counseling resources as I have several referrals).

One of the things I thought of in that first week was how important stories are. To have a storybook of the people you love in your hands is to bring back all those lovely memories in an instant – to remind you where you fit in this huge, sometimes evil, sometimes wonderful, world – to remind you of God's love for His children – to remind you of who you love and who loves you – to remind you that you belong. I don't mean to try to bring this event around and connect it with what I do. That's not what I am meaning to convey at all. It's just that when a tragedy of this magnitude hits so close to home, you think about your life, your legacy and your purpose. You think about how you spend your time –the very limited time here on earth that God has decreed with a start and end time.
After the shooting, we all went into support and ministry mode. Our whole lives stopped to support and minister to all those around us who were/are hurting or who were/are helping the hurting, whether they were family, friends, or strangers. Purpose and meaning were big topics those first few weeks. I'm sure they will continue to be big topics. I'm clear on my purpose to glorify God and enjoy Him forever. I am not always clear on how best to spend my time doing that. And I think making assessments of your resource of time every once in a while is wise. Is spending my time making storybooks worthy of my limited resource of time?
I started thinking about all of the unfinished storybooks I have either in my HM account or in my head! And it compelled me more and motivated me more to want to finish those storybooks. I could be gone tomorrow, only the Lord knows. But before that happens, I want to leave my kids with as much of their heritage as I possibly can. I want to leave them with pictures that they can see and touch and stories that they can read that go with those pictures; a heritage that they can physically pass on to their children and future generations. Is this worthy of my time to do?
Last week my son, his girlfriend and 4 of their friends came to visit us from out of town (Yes, I have pictures!! Lol!). The women's study I lead on Friday mornings was in the book of Deuteronomy. My group of women and I were beyond delighted that my son's girlfriend and the other girls from out of town wanted to join us for our study. One of the girls mentioned how Deuteronomy states over and over again to "remember;" remember God's laws and commandments. The word "Deuteronomy" itself means "Second Law" or "Spoken Twice." God's laws are mentioned again and again in the first five books of the Bible and we are told to remember them countless times. In Deuteronomy alone, the word "remember" occurs at least 16 times. God's laws were repeated over and over again. Why? Because we forget so easily. We are led astray so easily. We need help to remember. It is for our good that we remember His commandments. And God is a gracious Heavenly Father and knows that we need reminding.
My sister and I went on a trip down memory lane recently and visited an old neighborhood of ours and that of our grandparents. Things have changed drastically since we lived there over 40 years ago! We wanted to go visit our elementary school and we wanted to try to find it on our own from memory. There were two routes we used to walk. When I finally had to consult the GPS to get us there I realized that I had memories of both routes in my head that I had combined into one route. In other words, the memory I had in my head of what I thought to be the route I took as a child was in fact a combo of the two actual routes! I was shocked at how unreliable my memory was when matched up against reality! I need reminding!
Remind, Remember. I want my kids to have an accurate memory of the rich heritage on both sides of their family. I want them to remember the story of their parents; of when we met and married and the details of when we encountered the Majestic and Wonderful Savior of the World, Jesus. (By the way, if you don't know Him….please contact me ASAP and let's chat!!! He is my favorite true story of all time to tell!!) I want my kids to remember the story of our conversion because I want them to understand and be grateful that their very existence is due to a God that intervenes; the ultimate Hero that seeks and saves the lost.
I want my kids to remember vacations with their cousins and friends. I want them to remember everyday life in the community they grew up in. I want them to remember their family heritage that dates back to the 1880's in their community here in the Vegas Valley. I want their children's children to know that this community we call home, despite its outsider reputation, is a solid community made up many heroes as was demonstrated on the night of October 1st . And I want to record the stories before I forget the details because as I have learned my memory isn't always accurate!
My kids deserve to pass down all of these stories in a tangible way to their children. And the stories are worthy to be told. Granted, the time allocated to doing so should be balanced with all of my other responsibilities as a child of God, wife and mother. But it is, indeed, an endeavor worthy of my time and that worthiness should be reflected in my calendar of To-Do's. It is an endeavor that does, indeed, bring glory to God. Because in the end the stories that I would and do write are a reflection of God's goodness and a reminder of who God is and how He works in and through His people. What an encouragement that will be for future generations! And one of the things I love most about Heritage Makers storybooks is that they were designed to last….even out last me, my husband and my kids!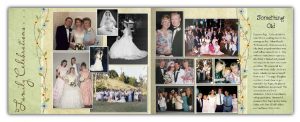 End notes:
My husband's roots in the Vegas Valley go back to 1882. I am so thankful of the stories and pictures we have of his family (I even was required to learn about his family in a Nevada History class I took in college! Ha!) Those stories bring me great encouragement, especially the stories of how strong of a woman my husband's great-great grandmother, Helen, was! She was an advocate for her fellow community members and she had a passion for a deep sense of community. I am so thankful for her commitment to community. Her legacy is famous in our valley. I am very proud of our community in the days that followed that awful night of October 1st for coming together so quickly when our visitors and community members were in trouble. On the news and on social media people outside our community have been pleasantly surprised by the incredible response of our local citizens. I'm not surprised by the response because that deep sense of community has deep roots here in our valley that precedes "Sin City." Here is a Facebook post I made on October 4th about the seed of that community that you might find interesting:

Before there was a "Strip" and before there were any Hotel Casinos, in the early 1880″s my husband, Todd's, great-great grandparents, Archibald and Helen J. Stewart, moved to the Vegas Valley. Although Helen lost her husband soon after they moved to the Valley, she was very involved in creating a deep sense of community here in the Valley. From being the first woman voted onto the Clark County School District Board of Trustee's to being a proficient rancher and business woman (she owned the Las Vegas or Stewart Ranch that gave rise to the city of Las Vegas). She was passionate about education and educating the Native Americans around her she called friends (she's famous for her basket collection…over 550 pieces!!). She was a founding member of Christ Episcopal Church and a charter member of the Mesquite Club (still active today). She was even given the position of Postmaster! She was considered an authority of the history of Southern Nevada and was passionate about women's history and involvement. She was close friends with Delphine Squires, another important founding member of the community. Helen sold most of the land of her ranch to the railroad (run by Senator Clark whom Clark County is named) and the land was auctioned off and became the Las Vegas Valley that we know today. Helen J. Stewart, for all her accomplishments and her commitment to her community, is considered the First Lady of Las Vegas. That deep seed and spirit of community that she helped build is still here and stronger than ever and she would be very proud of how her community has come together. #vegasstrong #helenjstewart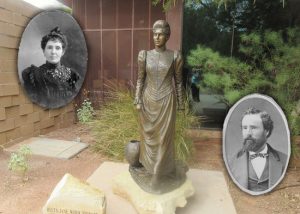 Pictured Right: Helen J. Stewart, Statue of Helen J. Stewart, Archibald Stewart
Pictured Left: Helen J. Stewart and family