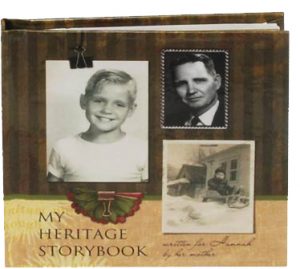 When my kids were little, they used to ask me to make up stories. I would start my stories very dramatically to capture their interest. But soon they'd catch on and stop me with excitement and say, "Hey! That's the story of me! That's the story of when I was born!" Had I known about Heritage Makers when they were that young, I would have made them each a book about when they were born so that they could "read" along with the pictures of their infancy! Heritage Makers "Flip Books" are perfect for this very thing. The Flip Book is meant to endure little hands that might be tough on turning pages! See a sample here: Flip Book I still plan on making those storybooks and when I do, I'll read them to their children!
There's something special about seeing your story in print. They say that storybooks like the ones Heritage Makers offers increase family bonding, a sense of belonging, increased self esteem, and reduces stress. Here's what my sponsor, Jennifer Wise, wrote in one of her blog posts:
"Studies have even shown that recalling happy memories increases happiness in the present! So if you want to BE HAPPIER, make some time to sit down and do some memory-keeping. It's something incredibly good for you that benefits other people at the very same time!" ~Benefits of Memory-Keeping by Jennifer Wise
So, do you think your passion for memory-keeping is just a hobby? Do you think your desire to want to have heirloom quality storybooks of your family is just "an extra" that can wait? Think again! I have great news for you! Your passion and your desire for these storybooks are grounded in good reason; a sense of belonging, positive influence on self esteem, reduced stress, and increased happiness! Memory-keeping is worthy of your time! Whether you make the storybook yourself or have me do it for you, it is worthy of your time to plan for it and make it happen! And putting it on your calendar will actually help make it happen, that's what I do! I have a regularly scheduled time that I sit down and work on my Heritage Makers projects.
You have the story and Heritage Makers has the books. The good news is this month storybooks are on sale! I plan to finish up my son's graduation book and then turn my attention to a storybook for my mother. I am making her a book of her grandchildren to take to her doctor appointments as sometimes the wait can be long! I'm also working on a surprise storybook that I will tell you about next month! What storybooks are you planning on making this month? I'd love to hear about them!
May God bless you abundantly today and always!
~Carol Browse Storybooks